This is the picture of a the park where I have played and played and played ever since I was a very small child...
It is just down the path from my grandparent's house...
Notice anything?

That's right a very established crab apple tree. One of two on the park. You may notice that there is a pool of fermenting apples already littering the floor. Why should so much FOOD go to waste? People walk past these FREE APPLES every day. Surely there is no need to waste ALL of them....
So after picking half of a plastic carrier bag full of these crab apples, about 2kg, this is what the kitchen sink looked like...

I wanted to making something nice and tasty from these apples. Crab apples are known for being sour and pretty unapealing when raw. But when cooked and with the addition of a little sugar, the juice is lovely. But is wasn't juice I was making today (well not primarily). I was going to take my first plunge in to the world of jelly making....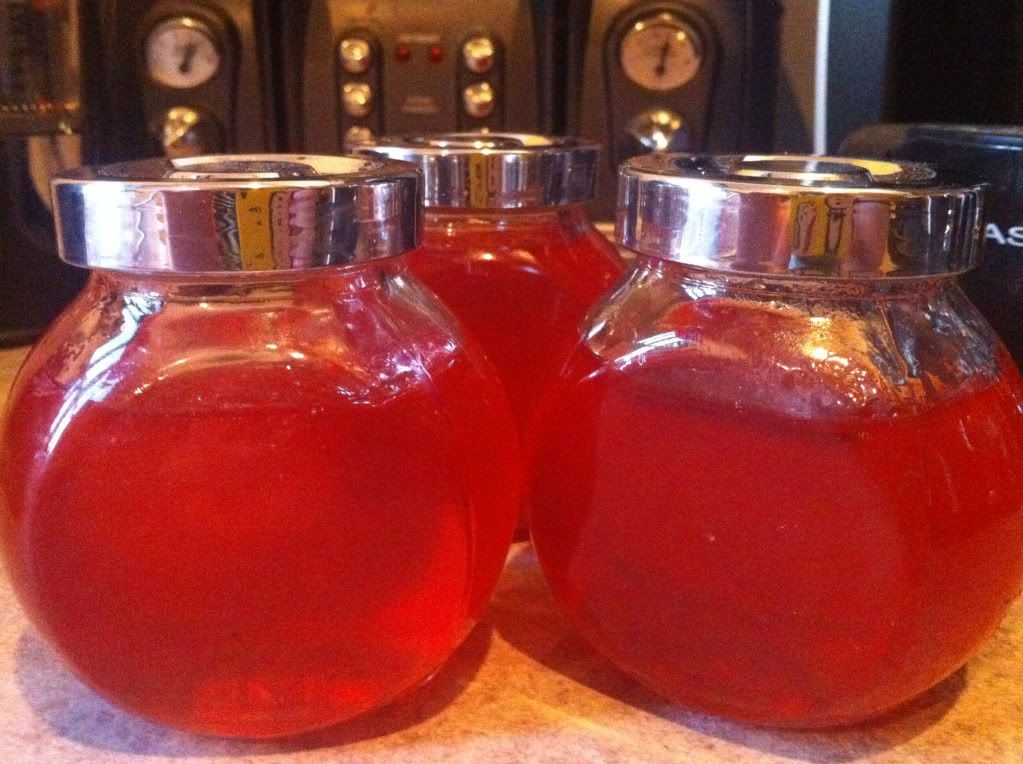 With a very nice looking, clear, perfectly set and most importantly delicious jelly, I was very pleased!
I've made endless amounts of jam before but I've never endeavoured to commit to a jelly. I think it's the fact that you have to strain it over night, do this and do that. Oh well. I looked at buying a jelly strainer and could not believe how expensive they were for such a simple and flimsy object, but with a little bit of searching and imagination I made my own. I got an old, clean bathroom towel and using some elastic bands attached it to a microwave stand. It worked a treat, I just wish I took a picture to show you how it worked.I put all of the boiled pulp in to the towel stand to drain the juice from, then I left it for 8 hours to drain. It said in the recipe to leave it over night, but I started it off early morning so made the jelly in the early evening.
Once you had the juice, it was a very similar method to jam making which I am familiar with.
The jelly is very sweet so I would proably use less sugar next time, but it is still very tasty.
Making the most of free food which is available in public places, the side of a road or anywhere else for that matter is a brilliant thing to do. Not only are you pleased with the fact that you are eating delicious, homemade food, but you are also happy it cost you no more than a bag of sugar.
Have a good day!
Martin
P.S I will definately be making jelly again, such fun and highly reccomended. Off to bake some more bread now!!