Where the heck does it go? I've been working most of this week so I have not had much time to blog, so I am writing a few posts up now to keep me going over the weekend. I have not had anywhere near enough time to read the blogs I follow, I will be catching up with these from Monday. This weekend is such a busy one, my brother's birthday is tomorrow and we are having a family barbeque, so that should be fun anyway.
In the veg garden, everything is going pretty well. Apart from the fact I knocked a big terrocotta pot full of lettuce leaf seelings over when I caught naughty Margot eating all the tops on the carrots, everything else is good.
This week we will be eating so much homegrown produce. There are broad beans, mange tout, lettuce, raddish, courgettes and...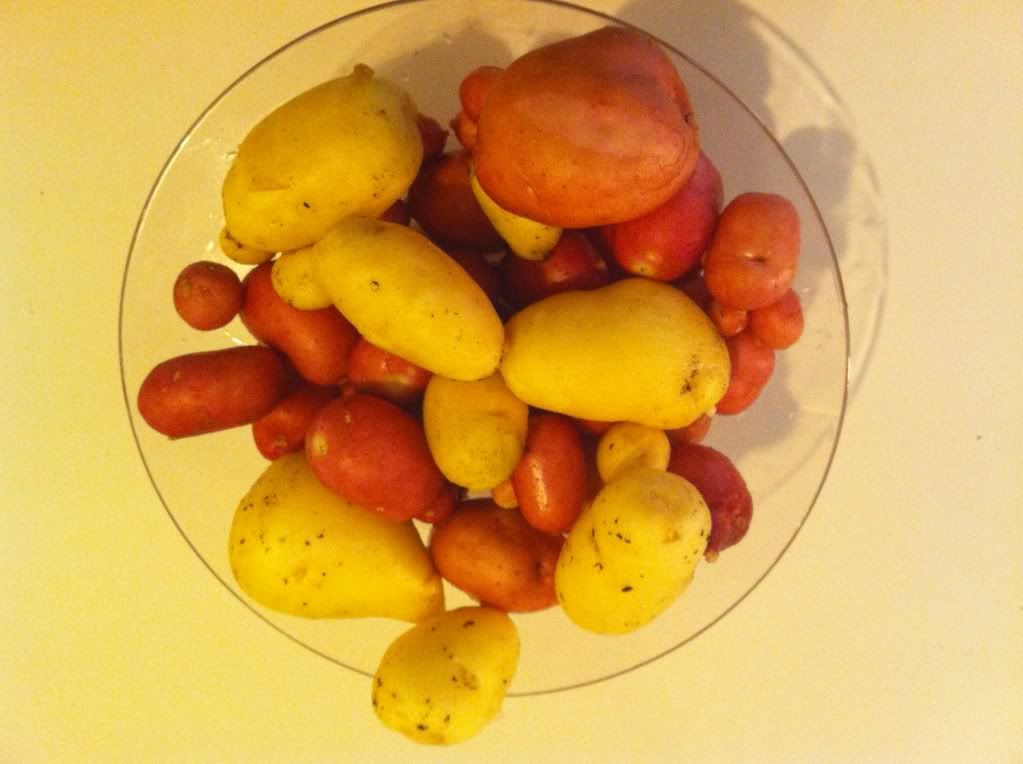 POTATOES!
Our first decent batch out of the filled up compost bags. Most of them are a good size fornew potatoes, there are a few mini potatoes and a few silly potatoes where the potato is no bigger than a drawing pin.
I can't wait to show Amy when she gets home. I had been leaving and resisting temptation to pull up these potatoes earlier, but the leaves had died back and were starting to go yello and the flowers had fell off over a week ago.
These should be delicious. I fancy a a few of them just plain with some butter and a sprig of mint, and then I think the others are destined to accompany a quiche.
I promise I will catch up with the blogs I follow next week, looks like a lot of reading.
Have a superb weekend!
Martin