Well, so much is happening at the moment.
We rather embarassingly had our first potato harvest of.. one potato, but never to give up we have hope with the others. The plant seemed to be dying so we pulled them up a few weeks before they would normally be ready, and all that was in the bag was one solitary potato. Oh well. Hopefully the others will provide more...
The 'barrow of berries' as I like to call our strawberry patch is full of fruits, none are ripe yet, but it won't be long now. They are in the front garden and this area has a lot less sun than the back garden. Most of the blogs I follow are already proudly displaying their finest, juciest, red strawbs.
In the veg patch, most of the tomato plants are establishing flowers. Harvesting tomatoes is one of the best bits of growing your own and so easy to do too!
The next picture shows that we have 5 MORE tomato plants that I need to find some room for. They've come on leaps and bounds since they've moved in to the greenhouse. The sunflowers in the foreground likewise. These are going in to Grandad's garden as soon as they are big enough! There also some pak choi sowings, some lettuce seedlings, beetroot and pumpkins.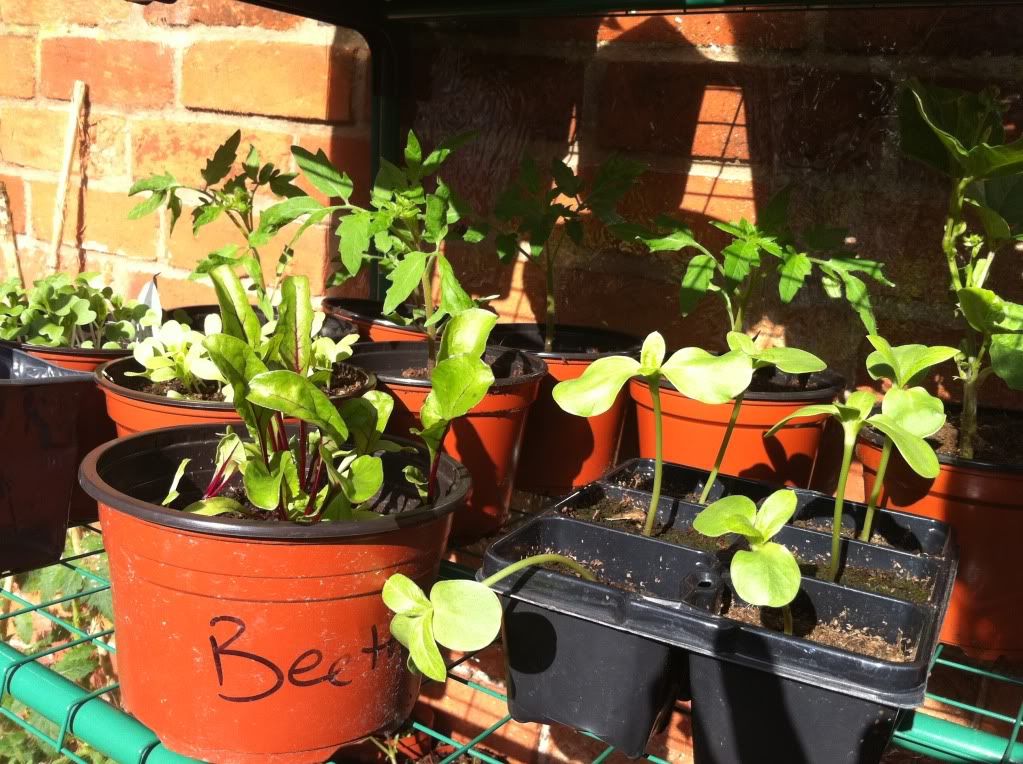 The growbag at the bottom of the greenhouse is now planted up with 3 courgette plants. I'm hoping they'll grow rather wildly in the bottom of the greenhouse and we'll be harvesting courgettes well in to the autumn.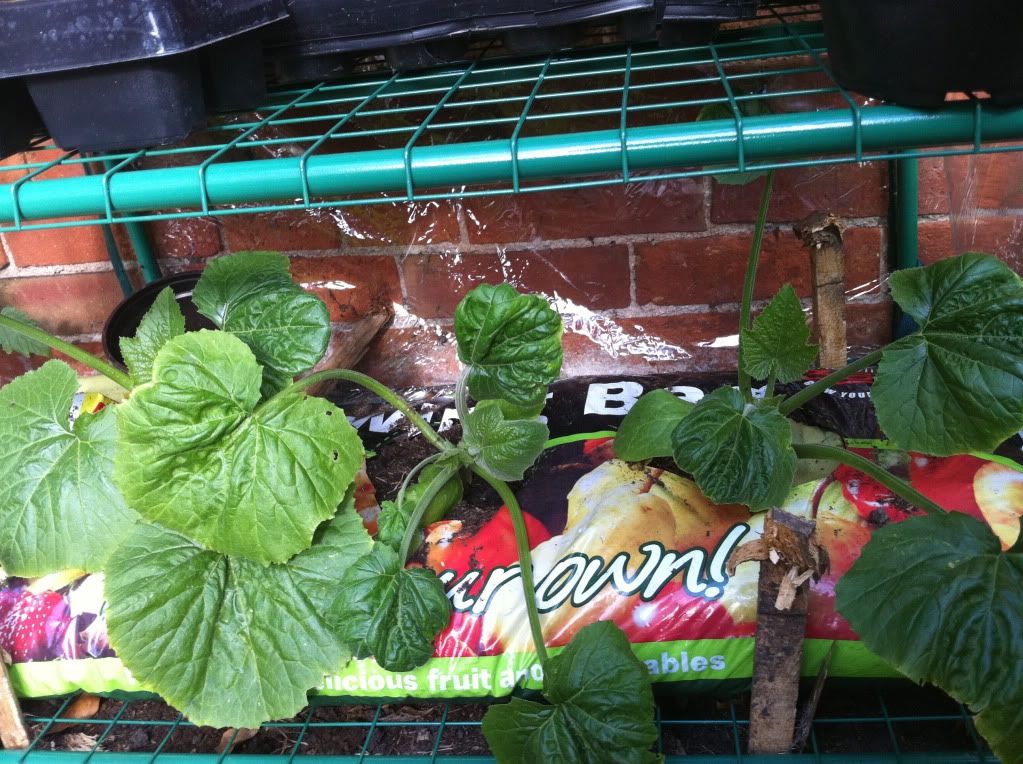 A quick snap of the jungle as a whole...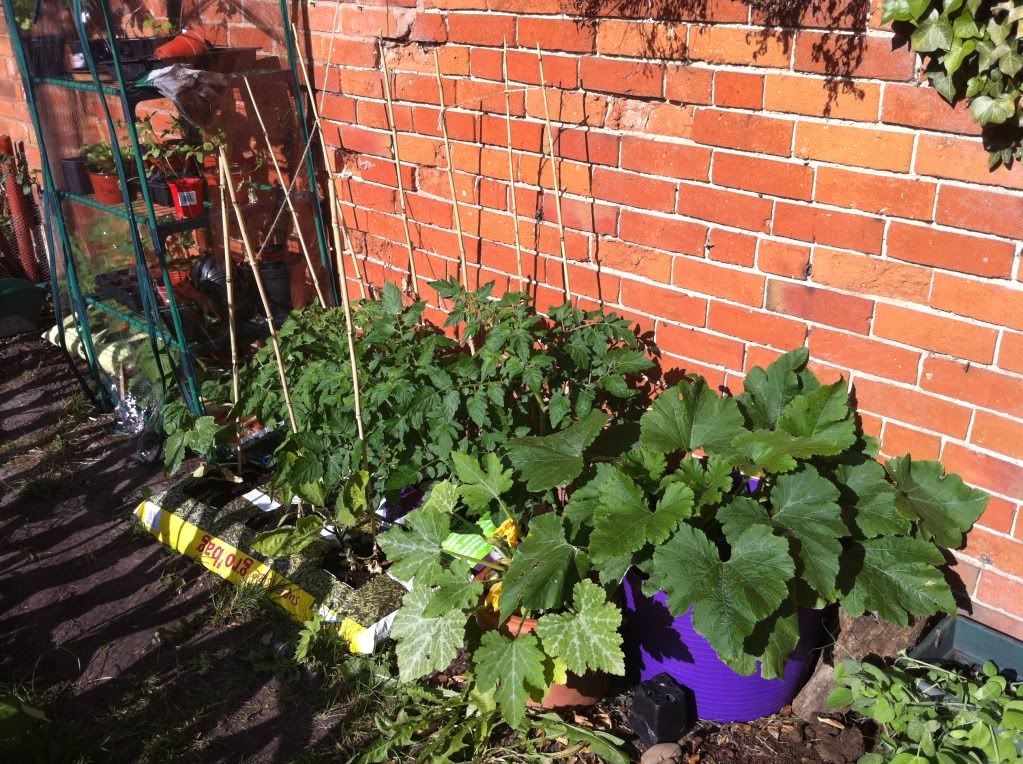 Remember, that arched structure we made for our runner beans? Well we've put the runner beans in and some of them are starting to make the long, winding journey to the top. I'm sure some of you will be familiar with the '3 sisters in a bed' form of gardening where you grow courgettes, runner beans and sweetcorn in the same area and thus maximizing the useage of your ground. Well we've adopted a similar idea and put a marrow plant at the bottom. I Will be happy if we can grow a few marrows to stuff with minced meat later in the year.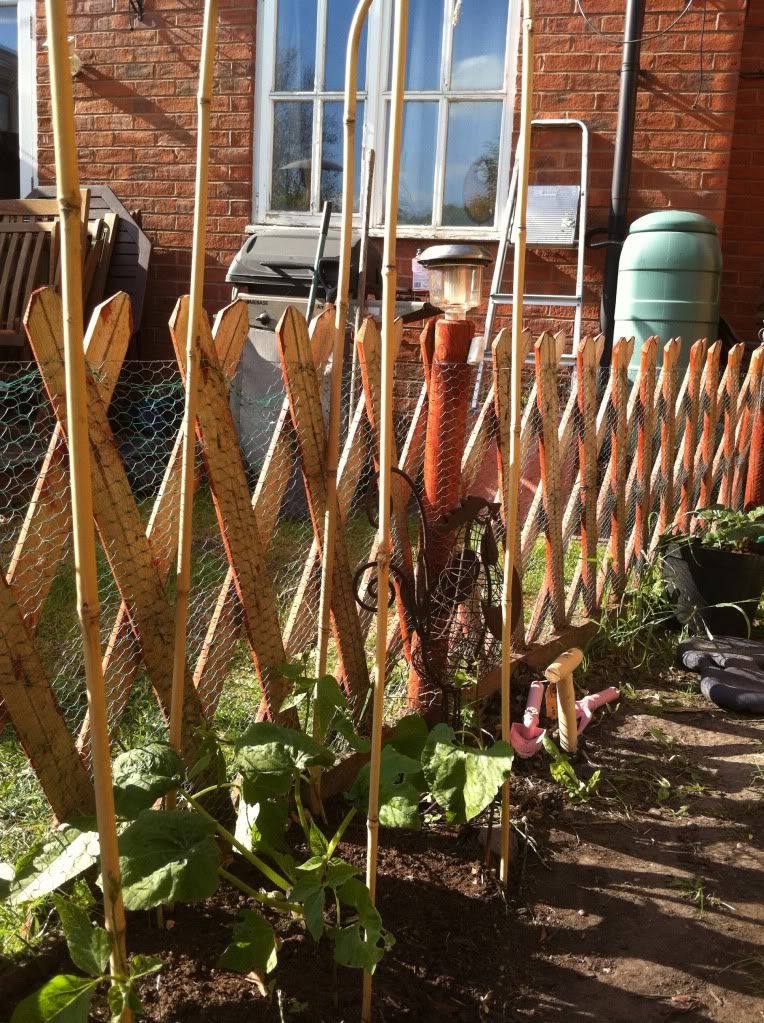 It's great seeing everybody elses blogs and seeing similar things going on. I am very proud to say that we are in the middle of a massive courgette glut. We've had about 8 or 9 lovely courgettes from only 2 plants. I see that some people's plants haven't even started producing yet, and they are green with envy at my harvest.
The raddishes should be ready very soon and most of the potato bags are full up. So much going on, just off out to give them a sprinkle of water due to the huge amounts of sun we've had already this week.
Have a great evening!
Martin