Probably the most boring title to date.. but when you start growing things, I always find that it is you grow veg, veg and more veg and then you get to a point when you go... 'Doh, we forgot the fruit'
This is pretty evident in our case, we sown all the veg seeds weeks ago, bought a huge amount of veg plants and over the last week or so we probably realised we hadn't really considered fruit. I have said previously that the garden is home to an established damson tree which has been here for years. We recently added the apple tree to 'the orchard' and we have covered ourselves on those two fronts. Talking of the apple tree, it went in to a nice big pot on Friday to give the roots some more room to grow!
The easiest fruit in the world to grow are strawberries, everybody should grow them, no matter where you live. There are now so many varieties around these days that tollerate all sorts of growing conditions and it is also fun to grow a mix of varieties, because not all varieties grow at the same time and therefore you can easily prolong your season.
We bought the rhubarb crown on Tuesday, and here it is now nicely snuggled in to it's big blue pot, but it is slightly engulfed by the ravishing courgette plants. Hopefully it will do well here, it is a bit of an experiment for us as I have only ever grown it in a massive bed on the allotment, but I do know and have read that it can be grown in a pot...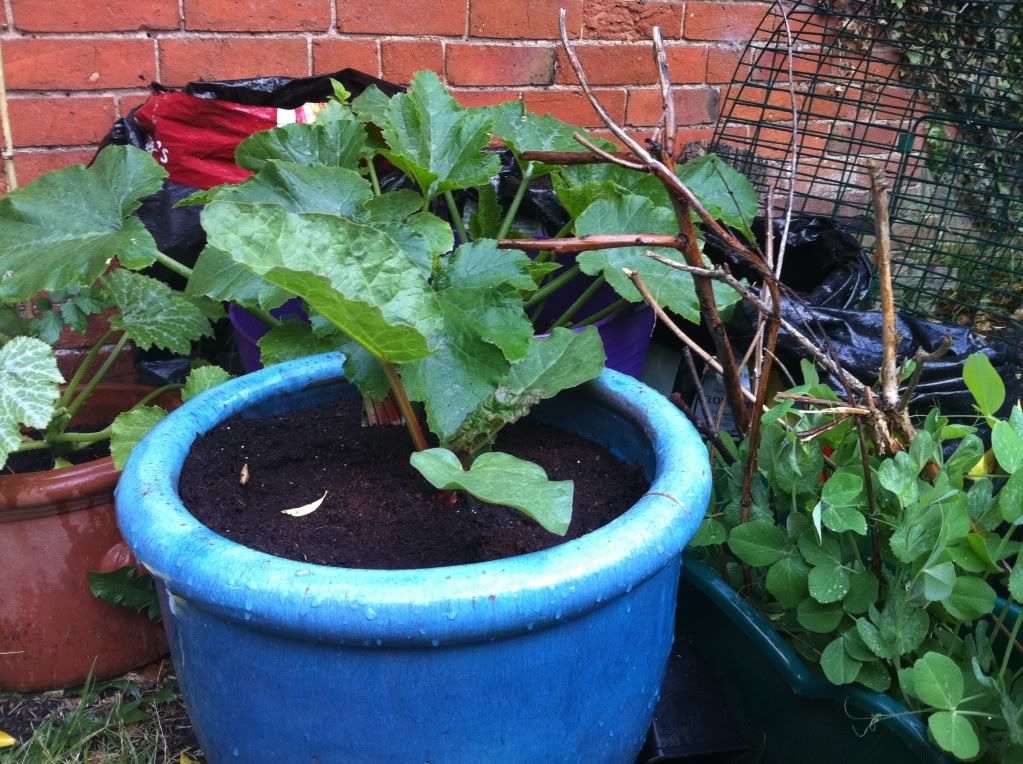 I said in Thursday's post about the young rasberry canes we bought that were reduced from the garden centre in Evesham. Well they are currently in small pots and are waiting to go in to a prepared bed. I've read that they benefit from a prepared bed rather than just planting them outright in to the soil... There are some small flowers too which is a bonus. It looks like we will have a very small crop of raspberries this year which is a bonus, but hopefully next year and beyond they really will take off...
There is also the melon plant bought from the same garden centre, it is currently in a grow bag with two tomato plants, I have no idea how this will turn out, but it would be nice to have a home grown melon or two... Here is Amy planting the new grow bag up using her new trowel...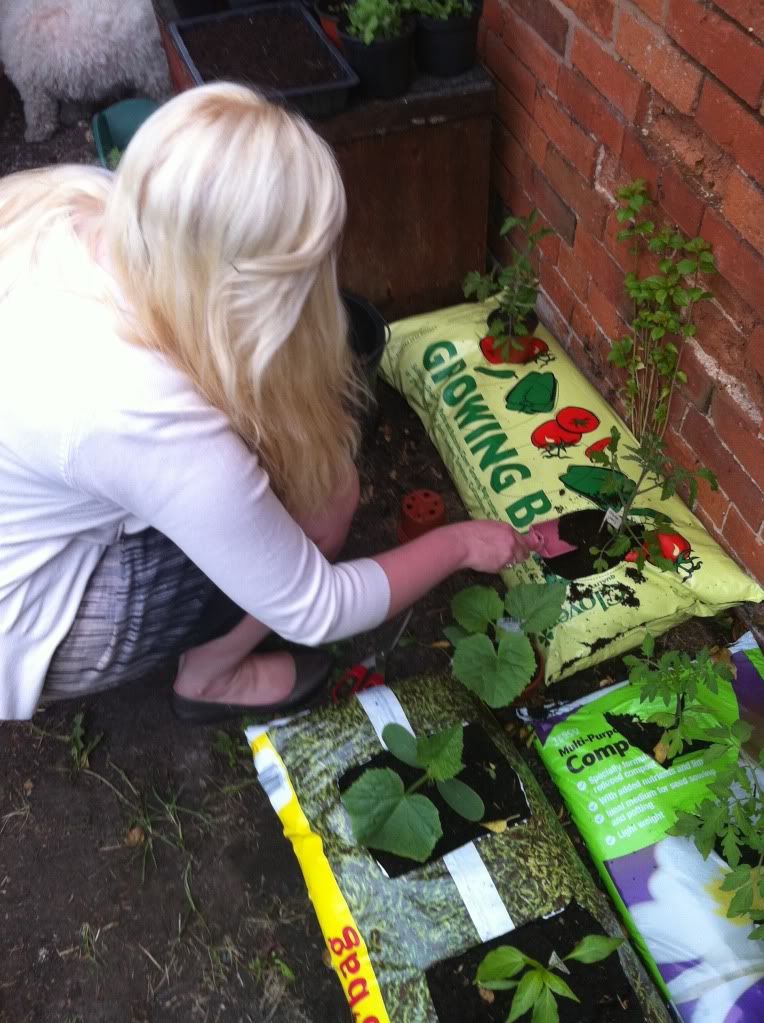 Can you guess what these are..?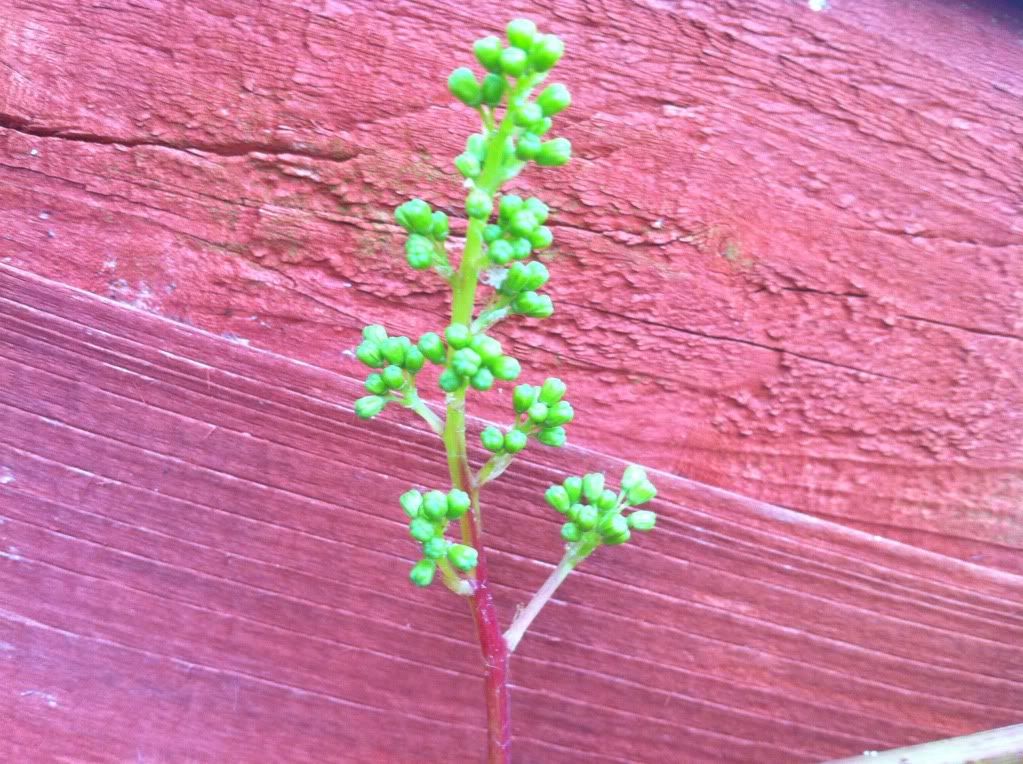 Grapes! This is one of the things that I forget about in my garden until I see the small bunches of white grapes hanging from the fence. It has originated as our neighbour's vine but has come over the fence to spread over our side too and I can't complain about that. The grapes themselves are a bit more bitter than those you buy in the shops, but I have thought about a few things I would like to try out with them this year.
My advice, to anybody starting to live a more sustainable and self-sufficient life is don't forget the fruit. When you start out it is easy just to look at the seed packets in a garden centre, which are dominated by thousands of vegetable seeds. A lot of fruit needs to be obtained through buying existing and established trees, plants, bushes etc. Some fruits such as Rhubarb can be grown from seed but grow better if the crown is divided from an existing plant. Other favourite fruits such as apples, will come from trees which will only start to give a decent harvest at 25 years old, a rather long time to wait indeed. But like with our apple tree, most garden centres will supply 'ready' trees for you to take home.
Have a superb Sunday!!!
Martin